Serving others is part of who we are and what we do as God's people. I believe that we are at our best when we are giving, and I say this because we are created in the image of a very generous and loving God. So when we give and share and serve others, we are being true to the people of God we are created and called to be.
With this in mind, you won't be surprised to hear me say that I think finding opportunities to serve as a family is important. That's because t

here is an obvious connection between making service a part of our family's identity and raising kids who are grateful and generous. And as with many of the values we hope to instill in our kids, I think one of the ways to make something like service stick is to help kids see that giving can be both simple and a whole lot of fun.
With this in mind, I like what Marilyn Sharpe says about family service in her book, for Heaven's Sake. She writes, "One of my favorite pieces of wisdom that parents and their children have taught me over the years is that 'our children become what we tell them they are.' If we tell our children that they are serving, that they are helping others, they will grow up and become servant leaders. Unfortunately, the reverse is also true. If we tell them that they are self-absorbed and focused only on themselves, they will not disappoint us."
If you want to raise kids who are generous and serving, and if you happen to be are looking for some ways that you can serve others as a family, I wanted to pass on a list that I recently found entitled, "50 Ways to Make a Difference." This list includes a lot of ideas of ways to serve as a family-- some I've heard before and others I haven't. To put this list to use as a family, you might designate a particular Saturday as "Service Saturday"; you might go as far as challenging yourselves to do one act of service each week this summer. Or, you might just pick a few of the ideas that resonate with you and try to do them at a given time.
Either way, the important thing is to show your kids that serving together is part of what you do as a family. It's a way of helping them see how God's light shines through them. And "it is a powerful way for the youngest, the oldest, and all of us in between to make Jesus' love incarnate again."
1. Wash someone's car.
2. Make paper fans to pass out at the playground.
3. Hand out Popsicles to outdoor workers.
4. Pick up trash at the beach.
5. Make a sunshine to send to someone.
6. Call your grandparents and share your favorite memory.
7. Send a thank you to someone who inspires you.
8. Collect canned food at your next barbeque.
9. Put a small recycling bin in your car for when you're on the go.
10. Pay off someone's layaway bill.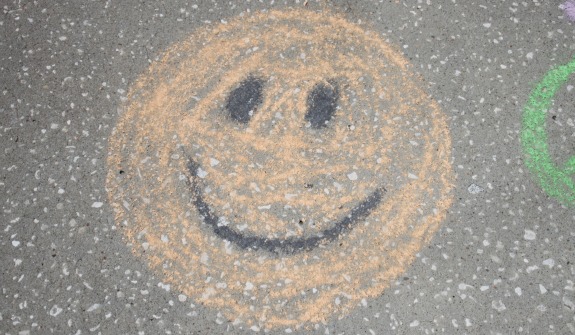 11. Tell a joke.
12. Clean out closets and donate outgrown clothes and toys.
13. Leave an ice cream gift card for the mailman.
14. Plant something.
15. Leave chalk messages on the sidewalk.
16. Take treats to the fire station.
18. Hand out water at a homeless shelter.
19. Carry a poem in your pocket and read it to everyone you meet.
20. Donate a container of bubbles to the the local YMCA or shelter.
21. Tape money for the ice cream truck to a friend's door.
22. Bury treasure at the playground.
23. Check in on an elderly neighbor.
24. Give candy to your bank teller.
25. Pass out stickers to kids waiting at a restaurant.
26. Leave a letter in a library book.
27. Buy iced tea or coffee for a stranger.
28. Decorate hand sanitizer for the nurses station.
29. Record a video message for a faraway family member.
30. Pass out water at the park.
31. Leave a book for a child in the waiting room.
32. Thank a service member.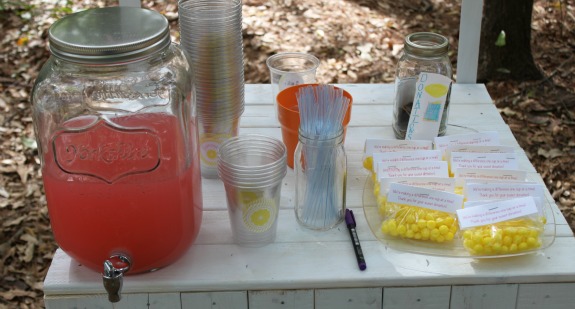 33. Host an Alex's Lemonade Stand.
34. Donate sunblock to a women's shelter or Boys and Girls Club.
35. Leave a kite on someone's doorstep.
36. Tape change to a parking meter.
37. Leave happy notes around town.
38. Let someone go ahead of you in line.
39. Make a meal for a new mother.
40. Volunteer to work in a community garden.
42. Bring flowers to a nursing home.
43. Draw a picture for your librarian.
45. Send kids on a "Secret Service Mission".
46. Volunteer to walk dogs at the animal shelter.
47. Weed a neighbor's yard.
48.

Leave bubbles

at your local park.
49. Tell the manager how good the service was at a local store.
50. Smile. It's contagious.